Ancient Village Facing Abandonment
Ever wanted to live on an island off of the Mediterranean sea?  Now you can!  Homes in  Ollolai, Sardinia are selling for 1 euro, which is about $1.20.  Mayor Efisio Arbau hopes to revive the city, which has decreased in population from 2,250 to 1,300.  There are about 200 historic homes for sale; however, they are in decrepit condition.  Part of the deal includes restoring your house within the next three years (estimated renovation cost is about $25,000).  These homes are made of gray granite which grows on nearby mountains.
This ancient village has an extensive history, which is just one attractive feature.  While three homes have only been sold so far, it seems Ollolai's culture has been revived through news pieces alone.  As I was reading up on the town, I realized I knew little to nothing about Sardinia.  Its unique culture is a result of its invasion by the Phoenicians, the Vandals, the Moors, as well as the Roman and Byzantine empire.  Evidence of its Stone Age history include surviving dome like structures, about 700 across the island, called nuraghi.  While their function is unknown, they are evidence of a town 'lived in' for thousands of years and ironically, their exteriors are in better condition than the homes for sale.
Some other interesting information about Sardinia include its folkloric traditions as well as diverse languages.  Some traditions include "s'istrumpa," which involves throwing an opponent to the ground to earn the town's respect in a wrestling-like match.  "Other town events include a carnival where participants wear costumes including goat-style masks with horns, fur and dangling bells or white embroidered face veils that symbolize the union of death and life" (Marchetti CNN).  In terms of language, while Italian is most obviously spoken, other languages include Sardinian, Catalan (from Catalonia, Spain), and Arabic.  I am particularly interested in the Sardinian language which seems both familiar and foreign to my understanding of Sicilian, due to the use of the "ddu" sound.
Other towns like Candela, on the Italian mainland, are also enticing newcomers to their towns, offering payments up to 2,000 euros to relocate with your family, to increase population size and better the economy.  However, Ollolai seems most fit to take on this challenge as new buyers will only add another layer to the town's rich culture.
-Stephanie Montalti
Source:
Marchetti, Silvia. "Italian Town Ollolai Sells $1 Homes to Lure New Residents." CNN, 8 Feb. 2018, http://www.cnn.com/travel/article/ollolai-italy-one-euro-homes/index.html
---
Beef in Nigeria
On January 1st, 2018, Benue State in Nigeria entered the new year with a mass killing of 73 innocent citizens. Why? Cows.
Yes cows. The Fulani herdsmen, a group located in the northern region of Nigeria, have been linked to a new wave of violence that stems from disputes over grazing areas for their cattle. Over the past two months there have been numerous sightings of herds of cows, at times hundreds, invading highways, churches, and local secondary schools.
There have been many reasons presented for this crisis. One reason is the climate change that has occurred in the northern region of Nigeria, which is closer to the Sahara desert. The mix of wind and sand as well as lack of rainfall has led to a large amount of soil erosion, making the land used by the Fulani herdsmen incapable of sustaining their cattle. This has caused them to begin to move south, into a territory that is frequented by farmers from other tribes, and has in some cases agitated previous ethnic clashes.
Another probable cause is the rapid increase in the population of Nigeria and the expansion of ethnic groups from their indigenous lands to other parts of the country. Many southern farmers have relocated to areas in the north, which has caused a limited amount of available land for the herdsmen who are native to the north.
These herdsmen, who have been quoted stating "cattle are more precious than human beings" have shown that they will go to extreme lengths in order to ensure the survival of their cattle. With the new year massacre, it is evident that they are not bluffing. Many of them have suggested that the government do something to relocate the southern farmers out of their native land back to the South, but many are opposed to this because this form of tribalism promotes a sense of separation among the citizens of Nigeria and can soon lead to secession of tribes and the degeneration of Nigeria as one unified country.
In attempts to salvage this situation, recently the Nigerian government has put forth a proposition they call "cattle colonies." This policy is set to solve the problem between herdsmen and farmers by designating different strips of land in each state as herding grounds. These grounds will be donated by each state and used for the herdsmen to feed their cattle, without interfering with the agricultural lands used by the farmers. As simple as this may sound, there are complexities that arise. For one, land is very sacred to most Nigerians and involve spiritual aspects in regards to selling or transferal of use. Many will not opt to give up their lands to the government, and the government does not have sufficient laws in place that will allow them to take possession of these lands from the families and communities that own them.
Government officials have also suggested cattle ranching, which would involve building ranches for herdsmen in the northern states and eliminate the southern migration and ethnic clashes. Despite these suggestions, the country is still lacking a concrete solution to the matter. This has left Nigeria in a dilemma, one that the government and the citizens must solve quickly in order to ensure that these mass killings and destruction of land by the Fulani herdsmen does not continue.
-Fortunate Ekwuruke
Sources: http://www.aljazeera.com/indepth/opinion/nigeria-cattle-colony-problem-180128104645450.html
https://www.cnn.com/2018/01/11/africa/benue-killings-mass-burial/index.html
A new wave of brazen attacks by herdsmen in Nigeria is sparking fears of genocide
---
Success in Failure
We are progressing into an era of experimental museums. In New York City alone, we have seen the rise of the Museum of Ice Cream, where visitors could swim through a pool of colorful sprinkles for a limited time, and the Museum of Sex, which offers a bouncy room designed to look like female breasts. For a short while, the Museum of Broken Relationships had a pop-up exhibition near Flatiron Plaza that displayed submissions from exes all over the world. In a somewhat similar vein, I would like to introduce the Museum of Failure.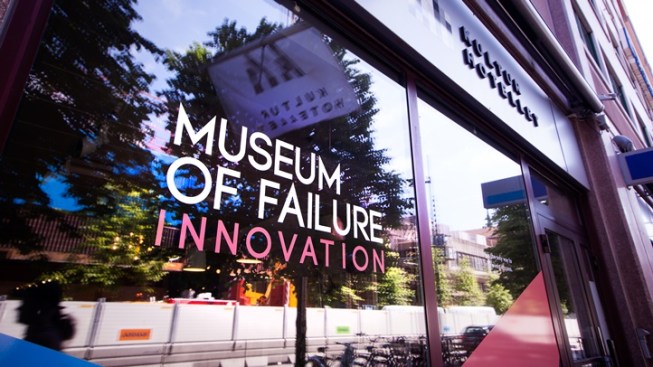 The Museum of Failure showcases what it says in the title, but as opposed to personal failures, the museum places the spotlight on mistakes made by big name corporations. For example, Harley Davidson once marketed their own perfume. Colgate, the popular toothpaste brand, tried to sell frozen lasagna dinners. There is something satisfying about seeing companies with huge advertising teams and publicity consultants stumble and fall.
Through its message and medium, the museum is innovative on two fronts. First, it displays failed inventions and bad ideas as "art" in a museum setting. Traditionally, museums were places for middle to upper-class patrons of the fine arts to admire artistic masterpieces in an insulated environment. They displayed "the best of the best," whether that meant the most expensive, the most appraised, or the most rare pieces of work. Many museums today still uphold this implicit association, from the Mona Lisa at the Louvre in Paris to the van Gogh paintings hanging in the MoMA. The Museum of Failure subverts this expectation of worth by showing pieces that have little value to the companies that once invested in them and little value to the general public.
Second, the museum emphasizes learning from failure in our current times. In our globalized cyberculture, we are bombarded with other people's achievements and successes. YouTube features videos of child prodigies, musical masterminds, and science geniuses. Instagram showcases the highlight reel of your friends' lives through saturated filters and bright smiles. Your Facebook feed tells you that your brother's best friend from middle school got married yesterday to his high school sweetheart. As a social media voyeur, it's hard to feel accomplished about doing anything when you measure yourself up to the global scale of talent. Even the smallest failure might make you think, Oh God, what is wrong with me? The Museum of Failure is a much-needed venture behind the scenes in which the B-roll is actually the main event. So the next time you make a mistake at work, remember that the multimillion company Bic once made a line of pens exclusively "For Her" – because of course, women can't use the same pens that men use.
(The museum is open now in Los Angeles, and will open in April of 2018 in Helsingborg, Sweden. However, the official website states that the Museum will be going on a world tour, so a exhibition might be opening in New York City in the near future.)
– Monica Saw-Aung
Sources
The Museum of Failure, Special Entertainment Events (SEE), failuremuseum.com.
Petroski, Henry. "Will the Museum of Failure Succeed?" American Scientist, vol. 106, no. 1, 2018, pp. 20–23.